We can all agree that Adobe has made a total revolution in the video-making industry, allowing people with no background in video animation to create animated videos like pros, using just a camera and a mic. Yes, we are talking about Adobe Character Animator – the software that lets you animate characters, as you speak. Literally.
These characters called puppets imitate your words, expressions, and movements via your mic and cam. And now that you can use the program for free in their Beta version, you simply cannot miss testing it out!
You've got the tool. You've got the equipment. Now what?
Of course, not just any character is viable to be dropped into the software and start imitating you. These characters need some preparation, also known as rigging. At this point, the challenge many people are facing could be how to make a puppet for Adobe Character Animator by themselves. Or, where to find Character Animator puppets ready to be imported into the software?
Well, luckily, we can help with the last one. In this post, we've outlined the top sources of high-quality Adobe Character Animator puppets on the web, ready to use with all rigging setups, attractive pre-made triggers, and even compatibility with the latest Motion Library effects. Sounds good? Let's begin!
It's simply a breeze to import a puppet in Character Animator and start recording right away, as long as you have everything prepared and ready to roll. That's the case with Cartoons.co.
This Character Animator puppet store offers high-quality premium puppets, loaded with all the basic functions you may need to create an attractive animation. Not to mention that the characters look super sleek and attractive, and the variety of Character Animator puppets for download is just insane.
In case you are looking for editable Character Animator vector puppet templates, all puppets on Cartoons.co are made in Adobe Illustrator, and so are fully editable in this software. Here are a few picks:
Puppets on Cartoons.co are fully rigged and prepared with lipsyncing, emotional expressions, and triggers like waving, showing thumbs up, pointing in directions, and body tracking. Compatible with the Motion Library effects in the latest version of the software, too, which literally gives you dozens of fun motions to experiment with.
What better source than the source itself? Ever since the launch of Character Animator, Adobe has introduced a gallery of free puppets which is regularly updated with fresh new additions.
Completely free to download and use, these puppets come in a variety of styles, themes, and triggers to use as you wish. Even more. If you're wondering how to create an Adobe Character Animator puppet in Photoshop, then all puppets listed on this site can be freely edited in Photoshop and Illustrator, so you can customize them according to your liking.
But this is not all. Since Adobe has made Character Animator puppet body tracking possible, you have a real chance to unleash your full acting potential. Here are several puppets by Adobe that support the body tracking feature:
All in all, Adobe is a great source for finding free puppet templates for Character Animator with basic or specific features. Contributed by various artists and completely free to use. No credits are required.
GraphicMama is a source for design goodies that has listed over 180 Adobe Character Animator puppets for sale and for free. A truly impressive diversity to choose from, indeed.
In general, the site offers three categories of puppets: free, premium, and advanced premium. The advanced puppets are a bit more pricy, as they come with some additional features like turning the head left and right in a 3/4 perspective, walking left and right, as well as elbow bending.
Here are several premade puppets listed on GraphicMama that you can check out:
GraphicMama also offers a puppet maker for Character Animator specifically for a male character, in case you want to create multiple custom Character Animator puppets in the same style. And if you want to stick with a ready-made puppet, you literally have dozens of options to choose from.
A great source of free and premium puppets for Adobe Character Animator, illustrated in a simple style and pre-set with plenty of awesome features. You've got body tracking, walking, sitting, all kinds of accessories, dozens of cool animated replays, and even up to five body views for some puppets. Wow, impressive!
All puppets come fully rigged and ready to be imported into the software. And if you want to create a puppet in Character Animator according to your taste, this site probably offers the best diversity of outfits and accessories for you to mix and match for any individual character. Here are a few picks:
As mentioned before, you can grab paid or free Adobe puppets on Animation Guides and even bundles of customizable puppets which are made in the same style.
A source of awesome cartoon puppets for Character Animator, well-sorted by theme and illustrated in a super catchy classic cartoon style. On Electro Puppet, you will find numerous themed collections. Either sorted by age – kids puppets, teen puppets, adult puppets, or oldies, by holiday – Halloween puppets, Christmas puppets, Easter puppets, or by illustration style – flat puppets, clay and stop motion puppets.
The diversity of personages is really huge. While all of them include the basic features – lipsyncing, facial expressions, head and body 3/4 views, walking, and performing gestures, you will also find some extra exciting triggers according to the theme. For example, the zombie puppet can remove his skull top, so you will see his brain jiggling around, as he moves.

In each download archive, you will also find the Character Animator puppet PSD file or AI file, so you can freely edit the character's appearance to match your taste and vision. The pricing varies in accordance with the number of features included. Look around for a discount code, too!
Ch puppets is a source of pre-made puppets for Character Animator and custom orders. You will find a couple of freebies, too. You get to choose from dozens of ready-made puppets – male, female, objects, and even puppet numbers!
In addition, you will find a completely free-for-download blank puppet file with 4 downloadable combinations to choose from: Adobe Illustrator or Photoshop, traditional build or body tracking. Perfect if you want to start from scratch and create a Character Animator puppet by yourself. Make sure to check out the tutorials for each option, too.
Let's see a couple of the premade puppet template listings on the site:
Most puppets listed for sale come with head turning, walking, various pose angles, including control of wrists, elbows, and even feet positions. Illustrated in a cute and catchy cartoon style.
This site uploads mostly 3D puppets for Character Animator with whimsical designs and unique customizing features for each. If you are looking for a realistic 3D doll-like puppet style, Puppet Shop provides a diversity of options to choose from.
These Character Animator puppets come with a variety of body positions, hair options, and eye colors to choose from. One puppet can easily turn from a boy to a girl by just changing a couple of physical attributes. Here are a couple of picks:
Digital Puppets is one of the firsts in the field, offering free or paid pre-made Adobe puppets and taking custom orders for puppets, as well. In addition to the freebies, this site's pre-made puppets are quite affordable, plus they frequently offer discounts.
If you are on a low budget and need a 2D Character Animator puppet of a basic illustration style that can also be customized with your logo, this site may be a great find.
All characters are editable in Photoshop and easily combined with each other. Each is rigged with the walk feature, multiple expressions, arm motion triggers, and fluid facial turns.
Speaking of firsts, the Okay Samurai puppet collection has been around ever since the dawn of Adobe Character Animator and getting regularly updated with new great additions. The guy behind this project is actually a part of the Adobe team, making educational videos for Character Animator since the very beginning.
The site is fully dedicated to providing Character Animator free puppets with the latest features, perfect for education and free to use for any other purpose. No credits are required.
Below each listed character, you will find a description of the features and triggers for the particular puppet. Go check out the latest additions on this site, and feel free to edit and experiment as much as you want.
GrifNMore's collection of Adobe puppets is not super big but it has some interesting finds. Including a few celebrities made into funny puppets.
Each puppet is pretty unique and comes with themed features, triggers, and customization options. Lipsyncing and facial expression functions are not included in all puppet designs, as well. Make sure to read the description of each before purchasing.
The diversity of Character Animator puppets on GrifNMore is not so big in comparison to other resources, but the listings are certainly versatile and easily catch the eye.
That's it,
And hopefully, more than enough for you to start creating cool character animation videos right now. As seen, the opportunities are quite a lot. You can start off with some free Character Animator puppet templates rigged for the basic features, and then move on to more advanced options, as you feel more confident with the software.
We hope we've been useful today. If you're still riding on the creative wave, maybe you should check out some of our articles for backgrounds to complete your Character Animator scenes: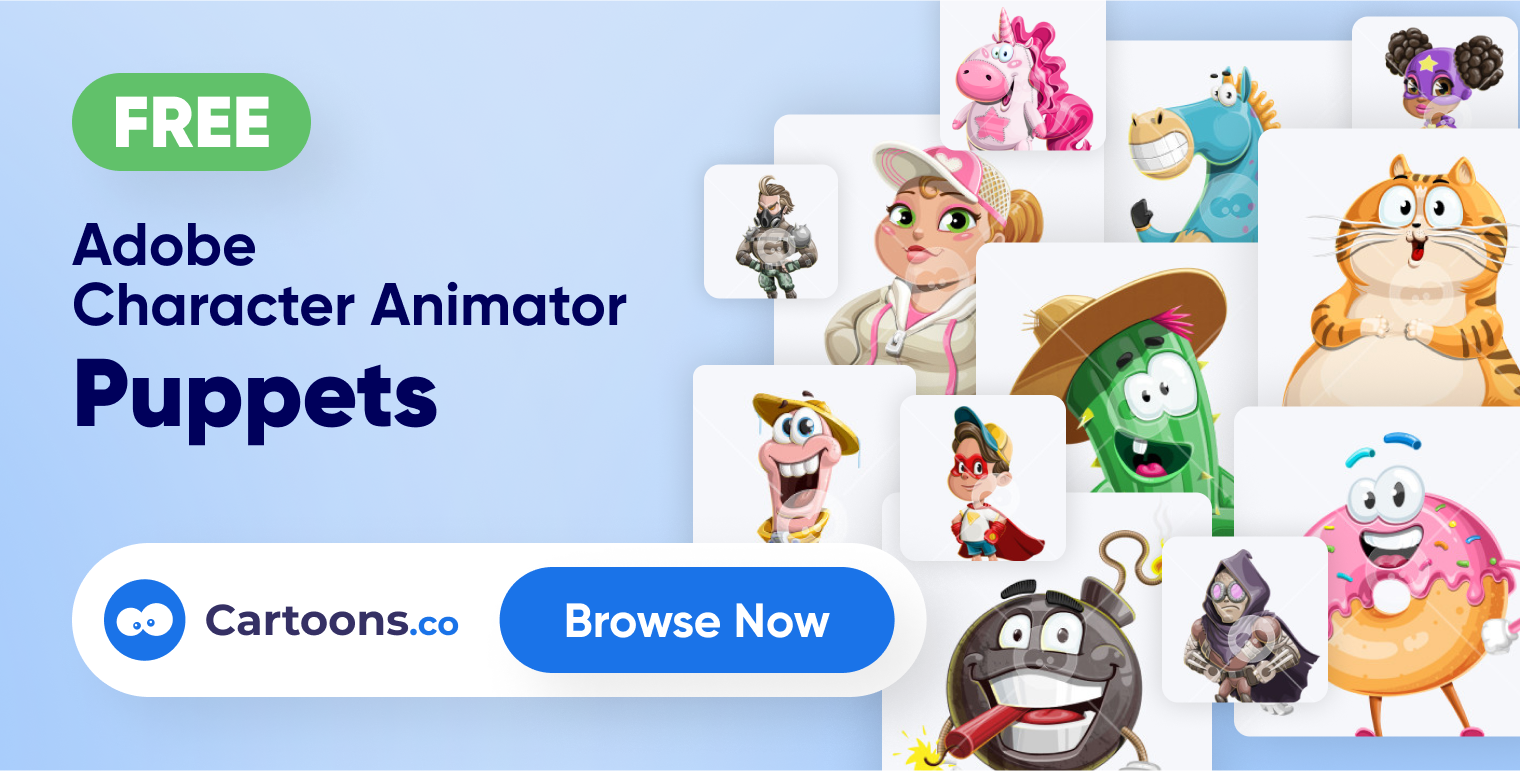 Share this article