One of the best ways to win people's attention and get a big audience is to include animated banners. When you target the right places, they work wonders. This is why today I will give you some amazing animated banner ads examples by designers from all over the world. Let's see how the power of design and animation can turn an ad into clickable content.
Animated Shopping Banners by Design Studio
This is an example of an HTML shopping banner for a website. Amongst all banners that you see in the gallery, which one instantly draws your attention? It's a very good idea to suggest the best offer to your audience by making it into an animated banner and put it amongst the static ones.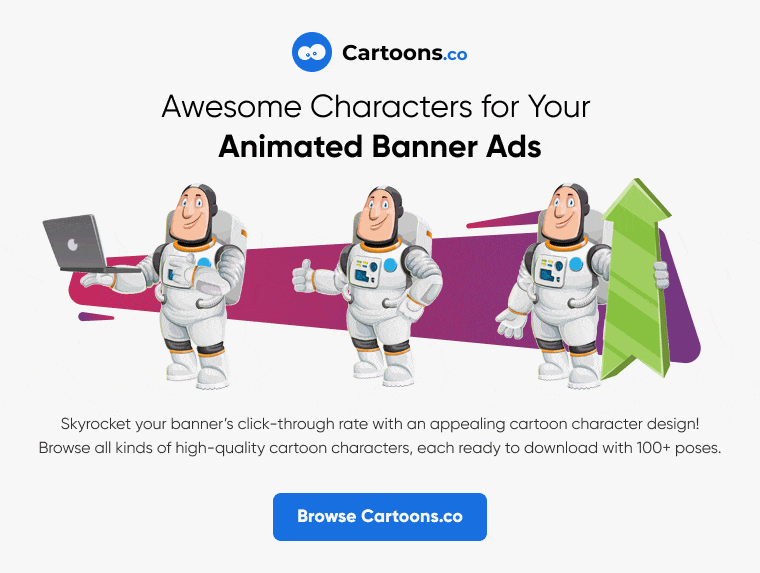 Rusbase Young Awards by Kalugina Natalia
Here we have three dynamic banners for the Rusbase Awards, for young entrepreneurs under 24. Beautifully designed and animated, they instantly attract the attention of visitors to learn more about the company and events.
Seven Tips Animated Banner by Minh Pham
This animated banner example is a little bit different and niche. The designer put it in their Dribble as a teaser for their YouTube video on the promised topic. And that is, 7 tips to get more organic followers. Even without watching the video, we can conclude making your advertising content animated is easily one of them.
Educational Platform Animation by Cadabra Studio
The next animated banner ad is by Cadabra Studio to advertise their educational platform. It has a breath-taking design, attention-grabbing effects, and functional micro animations. There are some very clever ideas to convey its message even before we get to read the text. The binary code already speaks of digital, while the animation of the face getting blurred by a tool hints at photo-editing software.
Intervisie 2018 Event Bumper by SPS Studio
Here we have a very short but richly animated banner for an event. It's simple in concept, only showing a flat design character who has a great idea and can't wait to show it. All with amazing transitions between the animations turning into dots, that seem to be the pattern of the event's brand.
Jewelry Web Banner by Vita Designer
I chose this example specifically for how clean and simple, yet classy it looks. It shows a slideshow of images of products next to a 50% sale line in a luxurious font. The whole banner looks very minimalistic and tasteful, in the right vibe for a jewelry store.
New Arrivals Banner by Katherine Petrova
The next animated ad banner example doesn't have slideshows or character animations, but the dynamic is in the main message. Exactly the part that needs to grab your attention. New arrivals, more paints, more fun. Once the topic gets your interest, you can read about the specifics of the store's offer.
PandaDoc Social Media Banner by Lesha Rugain
Here's an animated banner for a Facebook ad campaign. The objective of the initiative is to generate leads and to show them the best practice stats for eSignature flows. It has a very clever abstract animation of a person meditating and clearing their mind.
Travel Agency Banner by Raisul Islam
In this composition, the designer shows their animated banner ad in different resolutions for different uses. Simple and effective design for a travel agency with awesome letter transitions and zoom in effect for the background image.
Banner Animation by Maomao
This is an experimental banner with the concept of service experience that enhances user conversions. Although the message and taglines are still in progress, we can already enjoy the high-quality animation of a deadline emergency via a red alarm clock.
Website Banner Design by George Tang
This animated banner ad for a website is created with adobe Animator for a college course. It's for the National Science Centre and offers a few interesting facts that draw attention to what the centre has to offer.
Shoppers Drug Mart Corporate Ad by Solvers
The last banner is very simple in animation and concept, but also very appealing with its floating shapes. It's for Shoppers Drug Mart, Canada's leading pharmacy retailer.
In conclusion, animated banner ads are a very popular way of engaging your target audience and boost any marketing campaign. In short, they are short movie trailers for what you're advertising. As such, they need compelling animation and a powerful tagline, as well as to be informative and attractive.
Social Media Animated by Katya Malva and Igor Shipilov
This trio of animated banner ads examples is for the social media posts of a grocery store. The first one shows a July campaign with a specific date where you can get summer groceries cheaper. In the second, we have a lovely smooth animation of a character feeling too hot in the summer and receiving a cold ice cream that is on sale. While in the third animated ad, we have Monterey Jack from Chip'n'Dale following the scent of his favorite cheese across town straight to the grocery store.
Various Banners by Nikita Artoshin
Let's continue with a collection of banner ads examples for different campaigns, all made by the same designer. The first one offers an amazing isometric animation of a futuristic night city with neon colors. It says "Invest in the Future" and invites the audience to learn more about the investment company and what it has to offer.
The second dynamic banner is for an airline and advertises lower flight ticket prices. It has the same style of animation as the previous one that makes the elements appear from different sides.
In the third one, we see one very tasty animated ad banner example of a burger revealing its delicious content. Simple and effective animation that instantly draws attention. First, the tag line says "Our burgers became even tastier" and then the animation reveals why by breaking down the extra goods in the burger.
And the last example by the same designer is a very cool-looking glitchy banner ad for online sales, offering just the start date and the amount of percentage of the price reductions.
That's it!
Hey, you've reached the end of our hand-picked collection of animated banner ads examples. I hope you enjoyed these creations by graphic designers and
In the meantime, why not take a tour around and see:
Advertisement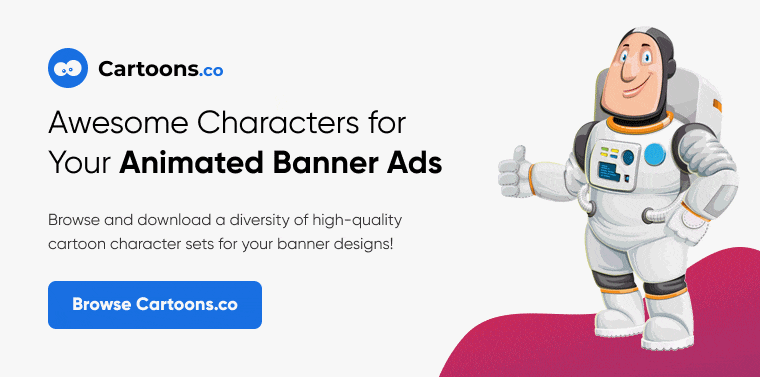 Share this article