To create magical illustrations for children's books, artists go through a unique kind of artistic process and let their limitless imagination take them to meet their inner child once again. Children's book illustrations are special and captivating. They perfectly communicate the action in a story to young readers and even to younger viewers who are still unable to read. This is why today I'll take you on an adventure way back to your childhood and hopefully make your inner child happy and inspired with 33 magical children's book illustrations.
"It's never too late to have a happy childhood."
Berkeley Breathed
Now let's see some amazing artwork by children's book illustrators from all over the world who unleash their creative potential to the fullest.
1. Personalized Children's Book
A beautiful customizable book, that allows you to change dad's and children's faces and hairstyles. The charming acryl style with pastel colors makes these character designs really stand out and empower the heart-melting story.
2. A Color Named Love
The author M. Ellery dedicates their book "A Color Named Love" to every parent who feels they don't fit the norms and want to start an open and loving conversation with their children. It's about transparency within families and learning how to show your children how much you love and respect them.
With their beautiful dreamy artwork, the illustrator Clara Reschke follows the story of little Anna in which she discovers how each special moment with her parents is unique and has its own color.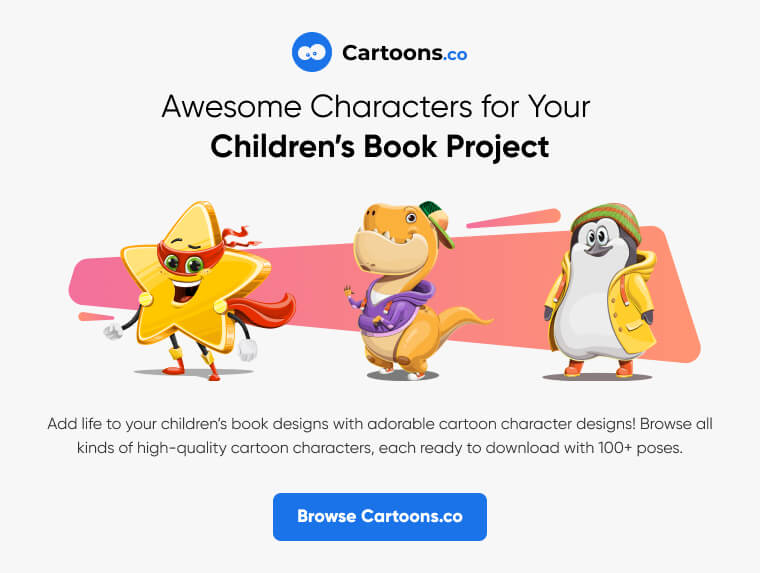 3. The Bug Collector
In "The Bug Collector", George visits the Museum of Wildlife with Grandad and all he can think about is bugs. The vibrant hand-drawn illustrations by the artist Alex G. Griffiths show the little boy exploring and hunting bugs and learning why bugs are so important.
4. The Lost Leopard
These children's book illustrations by Xuan Le are amazing with their great detail and vibrancy. "The Lost Leopard" is an adventure story for kids with flaps, die-cuts, and fold-out pages throughout to explore. Its artwork has a strong sense of world-building and no matter how long you look through an image, you will always discover something new you haven't noticed the first couple of times.
5. Alphabet Adventure Children's Book
These artistic cartoon animal illustrations are adorable and make learning the alphabet fun with this educational children's book. It is a great example of how cute, eye-catching illustrations can help kids learn with interest.
5. The Octopus Woman
Here's a Children's book project from Ukraine. The lovely illustrations of "The Octopus Woman" show a story of a mom with a very bizarre day filled with countless tasks that she manages to pull off flawlessly. She gathers and takes the kids to kindergarten and school, feeds the parrot and the cat, walks halfway across the city, works all day in the office, does a hundred important things on the way home, and then reads a book to the little ones at night… How does she do it?
6. Animal Poems
A simple book with short poems about animals and cute little illustrations for preschool children. Darya Lyutikova's coloring imitates children's pastel drawings which makes the images even more adorable.
7. How NOT to Behave at the Beach
Another interesting concept by Ukrainian authors. This time it's a book for children and teaching them how not to behave at the beach. The simplistic child-like illustrations by Galochka take a brilliant strategy to show bad behaviors at the beach which ruin the day for everyone. A bad example can also be a great teacher.
8. Dream Journey
This adorable pink monster named Gina is a modest and gentle girl who opens her wings when she's happy. A very colorful fairytale book with two main characters who run into trouble and set on a "Dream Journey". Daria Degtiareva shows their amazing design skills and dreamy art style in series of very detailed illustrations for children to enjoy.
9. Ryaba the Hen
Masha BGD shares their colorful child-like illustrations for a Russian folk tale book and their creative process behind the scenes. The story is from the author's childhood and they wish to tell it to young preschoolers.
10. Rural Women
The next inspiring example shows an amazing abstract and colorful art style that bursts with energy and happiness from every page. Natalia Rojas Castro illustrates six stories about the transformative power of women in Colombia. These characters from Bajo Caguan and Solano use their knowledge and power to transform their community.
11. Yuri the Fury
This is the story of a little boy who goes on a playdate with friends and learns manners, sharing, and the benefits of music as a therapy. The Polish author Ana Oseynn does a great job painting beautiful full-spread artwork, leaving the white spaces allowed to create diverse compositions and make each double-page spread unique.
12. Little Corgi
In this bilingual children's book, a little corgi learns how to count. The illustrations by Lena Bardy fill the pages with amazing detailed and realistic cartoons and splashes them with colors, and atmosphere.
13. Sea Mile
The next children's book is for older kids as it tells a more complicated story. Dasha Belkina who did the illustrations complements that story with adorable artwork that imitates children's pencil drawings. The drawings are very dynamic and lively.
14. Huellitas
Here's another great example of a children's book illustration by Sof Aguilar from Mexico. The author makes various illustrations of puppies through which they teach children the importance of understanding everyone is different and nobody deserves to be discriminated against.
15. Who Do I Want to Be in the Future
This is part of a series of personalized books for children by Ewa Brzozowska. The author designed two books for dream professions, one for boys and one for girls with cute and simple illustrations.
16. Not So Different
A second example by the Polish children's books illustrator Ana Oseynn and nails the topic of encouraging children to embrace their differences and celebrate diversity. The book provides clear imagery of the many ways we are different, while also recognizing the ways we are the same. All of this with gorgeous and detailed full-spread illustrations.
17. Marry Poppins
We should never let great stories like Pamela London Travers' Mery Poppins be forgotten. In this supercalifragilisticexpialidocious project, Oksana Goryachih reimagines the classic tale for Russian children. With colorful dreamy illustrations, they will fall in love with the emblematic character of Mary just like we did when we first saw her.
18. Giraffe
The next cute children's book comes from Turkey and has adorable illustrations of a sleeping giraffe who is very hard to wake up. An entire orchestra of sheep plays their hearts out to wake him up. By the end, when the giraffe finally wakes up, the sheep are asleep, exhausted by the concert. Lovely artwork by the Children's Book Illustrator Funda Akhman Aydemir.
19. Art is Here
This time let's go to Taiwan and enjoy an educational children's book about museums and galleries. Curated by a Children's Art Museum and illustrated by Croter Hung, the book offers mesmerizing artwork with pencil coloring. "Art is Here" uses illustrations and simple explanations to explain the evolution, history, and types of museums.
20. My Pet Dragon
Made for the primary school age of 4 to 9, this cute book is a colorful experience of illustrations by Iryna Shevchenko that follow the story of a kid who finds a strange egg. The best part is, this egg turns out to be a dragon egg.
21. Lilou the Pug
Children love puppies. But let's be honest here, who doesn't? This charming little fella is the main character of a small children's book and he's about to find out he has a disease. Fortunately, the artist Marina BKSV features some progress sketches from the project and we can clearly see that Lilou goes to the vet and the story has a happy ending.
22. Peter and Dad
Another example from Russia is this sweet children's book about Peter and his dad who make up a fairytale together. It all starts in a land of dwarfs. The classic art style by Irina Avgustinovich brings a nostalgic feel to the parents and teachers who will read this book to children, while kids themselves would enjoy the beautiful illustrations as well.
23. Dog Caring Manual
Kids in Vietnam get their very own manual on how to take care and play with dogs daily. The book contains multiple guiding chapters with steps about nursing your puppies at a certain time. All with simple and adorable artwork by Trinh Anh who wrote and illustrated the book based on their personal experience with their own dog.
24. Improvised Fairy Tales
This time this gorgeous colorful and professionally designed artwork comes from Romania, by the hands of the graphic designer Bilyana Velikova. No matter how beautiful are the stories of Cinderella or Red Riding Hood, there are children that wouldn't even want to hear them before going to bed. They want to hear brand-new fairy tales, especially ones invented by their parents from scratch especially for them. It's exactly what this book offers: hilarious bizarre fairy tales with creative illustrations.
25. Travelling
This sweet children's book is a personal project by the artist Cah Cam from Vietnam and features more than 30 pages of beautiful and detailed colorful spreads. In the book, a sweet little bunny goes on an adventure around the world, experiences different cultures, and tries delicious food.
26. Hug Me, Please
This Polish book offers a very unique art style by Emilia Dziubak and very detailed and atmospheric backgrounds. It's about sharing, caring, and hugs.
27. Zabaszauruszok
"Zabaszauruszok" is a book series written by the talented Hungarian author, Zoltan M. Kacsor. The artist Judit Kecskes illustrated his adventurous stories about dinosaurs and other unique creatures.
28. The Rabbit and the Turtle
A Thai take on the classic story of the Rabbit and the Turtle by Meimo Siwapon. These lovely character designs and dynamic textured backgrounds will surely appeal to young audiences.
29. Fairy Forest
Textures are very popular amongst authors of children's books as they bring a lot of depth and when used right, elevate the art and give it an athmosphere. In this case, the dark pages that represent the forest during the night, have a very dreamy magical vibe. It really looks like the animals are sleeping very deep in the magical forest. Artwork by Anastazi Li from Belarus.
30. What Are the Parents Doing While I Sleep?
Here we have a very interesting concept for a children's book. In this story, a little girl with quite a vivid imagination tries to figure out what her parents do when she falls asleep. They might be fighting dragons and monsters. Or climbing Everest. Who knows? Julia Prokhotskaya offers lovely detailed illustrations with amazing vivid color suiting the dreams of the main character.
31. Hip Hooray, Hippo
This very dynamic colorful illustrated children's book comes with a celebratory tale inspiring positive empathy in young children. Reminding kids and adults the importance of cheering others on and being happy for their successes. The book owes its amazing art to graphic designer and photographer from Columbus, Ohio, Jeremy Slagle.
32. Elise and Miles Shrink
These stories come from the creative mind and hands of Josh Lewis. He's an illustrator and brand designer for the children's market. In this bite-sized book, the beautiful illustrations follow a couple of adventures of the shrunk characters. They meet a water bear and learn interesting facts about species. In another story, the little children meet honeybees.
Bonus: 33. Bite-Sized Story Collection
And we've arrived at our last children's book illustrations example. Again by Josh Lewis. We have an entire collection of short stories about bears, dinosaurs, and planets in a fun cartoon art style.
Final words
That's it. Quite the adventure, wasn't it? I hope you enjoyed my 33 picks for magical children's book illustrations.
In the meantime, why not take a tour around and see:
Advertisement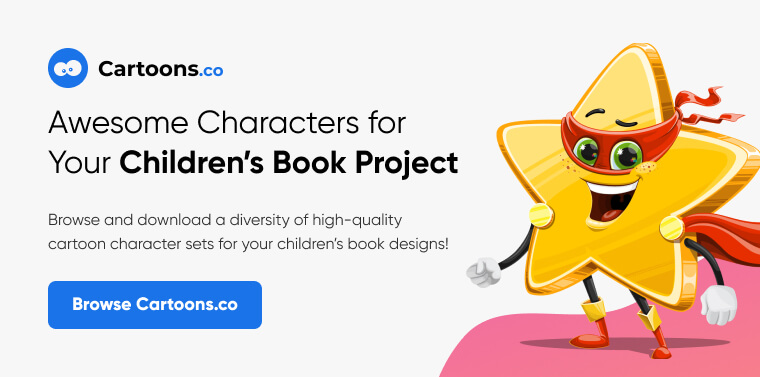 Share this article